Are you traveling to Cocoa Beach, Florida or Melbourne, Florida and looking for top-notch gluten free restaurant recommendations? I've got you covered!
We recently visited Cocoa Beach, Florida and Melbourne, Florida in February 2020. Here's where we ate, and what we ordered!
*Hint: it was a LOT of carbs, and a LOT of fish!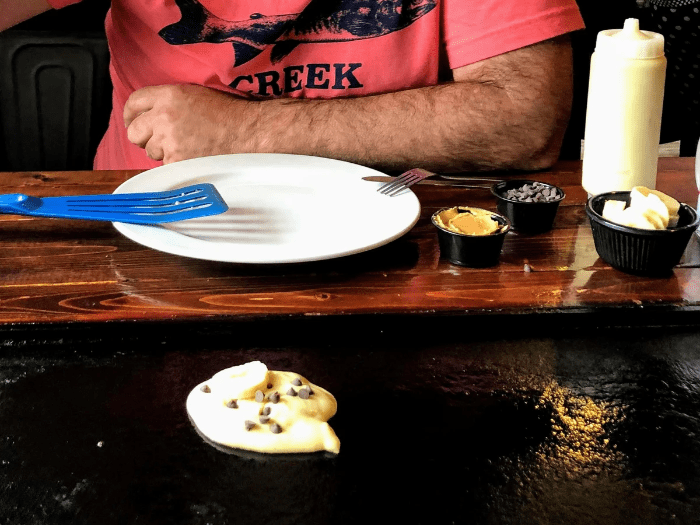 Backwater: Located in Melbourne, this breakfast joint has unique griddle tables on one side of the restaurant where you can embrace your inner artist and make your own pancakes! You can order a wide variety of toppings, such as mini marshmallows, peanut butter, banana slices, chocolate chips, Nutella, and more! We had a blast. We had to wait nearly an hour for our table, but we were able to order some coffee while we waited and once we sat down, we agreed it was totally worth it. They have a full breakfast menu with eggs, breakfast meat, potatoes, and more if pancakes aren't really your thing. But let's be real, pancakes are THE breakfast thing, so come here and enjoy your DIY pancake experience!
We Loved: 2 orders of gluten free pancake batter, mini chocolate chips, peanut butter, sliced bananas, Nutella, mini marshmallows, breakfast sausage patties, eggs over medium, the grapefruit and sage mimosa, and a bloody Mary.
Juice and Java: Cocoa Beach, Florida local coffee roaster and cafe' offering every kind of coffee your heart desires, gluten free sandwiches, gluten free baked goods, smoothies, and even wine! They have tons of cool swag and merch if that's your thing. Be sure to call ahead if you plan on eating something made on gluten free bread, as they sometimes run out.
We Love: Buzzed Honey Bear: frozen coffee specialty drink made with globs of honey and peanut butter, and THREE shots of espresso! You will die and go to heaven when you sip this as you stroll along the beach just a few short steps away from their parking lot!
The Nomad Cafe - Melbourne: This is the sister property of The Fat Snook located closer to Cocoa Beach, FL. Everything is fresh, made to order, and delicious! They have a large menu with a variety of items including nachos, salads, gluten free wraps, gluten free burgers, gluten free sandwiches, and gluten free pasta. They have covered outdoor seating so you can soak up the Florida sun while you enjoy your cocktails and lunch.
We Loved: The Mahi Mahi gluten free sandwich on gluten free bun, homemade potato salad, bloody Mary, Blackened Haddock Fish Taco with chipotle remoulade, sliced avocado, and spicy coleslaw stuffed inside a warm gluten free tortilla.
Long Doggers - Melbourne: Local fast-casual restaurant with a full bar, drive-thru window, and outdoor patio seating offering gluten free hot dogs, gluten free french fries, gluten free hamburgers, and gluten free beer! This joint has an eclectic offering of traditional and unique dishes, including bar food staples, such as chicken wings, smoked fish dip, burgers, and sandwiches, as well as surprising options like fresh fish sandwiches, pulled pork sandwiches, and poke bowls. There's something for everyone! I forgot my phone, and to be honest some places are meant to just be enjoyed rather than documented, sooo I may have poached someone else's photo off the internet so you can have the visual aid of a hot dog that's totally drool-worthy. You're welcome.
We Loved: Gluten Free Patty Melt Dog with American Cheese, Grilled Onions, Bacon, and 1000 Island Dressing (Long hot dog comes split in 2 Gluten Free buns), Gluten Free Waffle Fries, Gluten Free Coleslaw, and Gluten-Free Beer.
Bizzarro Pizza: This authentic NY-style pizza joint is located in West Melbourne and offers online ordering. Their gluten free crust is thick and puffy, nothing like the traditional flat pie-crust gluten free pizza many places carry!
We Loved: Gluten Free Pizza with Large Pepperoni Slices and Mushrooms, Chef Salad with all pizza topping vegetables added (because we ate way too many treats on this trip, and needed to get our fiber on!)
Chart House: We dined here on Valentine's Day and were thrilled with the service we received, variety of fresh gluten free seafood dishes to choose from, and outdoor heated seating! It's located on the waterfront in Melbourne, Florida and so romantic for a relaxing dinner.
We Loved: Shrimp Cocktail (served over dry ice! So fancy!), Gluten Free Blackened Grouper "Cabell Style" with lump lobster meat, lump crab meat, and lemon shallot butter, coconut ginger rice, mashed potatoes, and fresh veggies. We really loved the drinks here too. The mango mojito is ridiculously good!
Ichabod's Dockside Bar & Grille: This waterfront restaurant and bar offers a huge selection of gluten free seafood dishes, with fun seasonings and sauces! You can pretty much bet that nearly every species of fish you've ever heard of is somewhere on their menu. The night we were there, they were featuring a "fish of the day" which was more like an entire aquarium, because we could choose from: Grouper, Mahi Mahi, Haddock, Wahoo, and Salmon. Get your fish on!
We Loved: Blackened Grouper with Cilantro-Jalapeno-Ranch Sauce, Gluten Free Mashed Potatoes, Gluten Free Mixed Vegetables, and Gluten Free Fried Plantains.
Frigates Waterfront Bar and Grille: This gorgeous waterfront property in Melbourne has stunning sunset views over the lake. They have an expansive multi-tiered patio with bar seating, high tops, and heated patio seating, as well as indoor seating. The place is enormous. It's beautiful at night with lights draped over the palm trees, tiki torches, and heat lamps throughout the jungle-like tropical property.
We Loved: Smoked fish dip with veggie dippers, Gluten Free Yellowtail Snapper with Macadamia Nuts, Beans and Rice, Fresh Veggies, and Side of Gluten Free French Fries.
The Bald Strawberry: This Melbourne, Florida bakery offers a variety of vegan and gluten free baked goods, including cupcakes, slices of cake, cinnamon rolls, cookies, and a selection of sandwiches made on vegan waffles. If you are looking for Vegan treats, surprise, here it is!
We Tried: Vanilla vegan and gluten free cupcake with vanilla "buttercream" and frosted vegan and gluten free cookie; vegan and gluten free cinnamon roll. The cinnamon in the cinnamon roll was so cinnamon-y and flavorful! If you need to eat Vegan, or have a ton of food allergies, you will probably love the variety offered here.
Blog disclaimer: This blog, and its author, are not affiliated in any way with the restaurants or chefs mentioned above, and does not make any representations, warranties, or guarantees that the dishes mentioned or featured in this blog are gluten free, safe for consumption by those suffering from Celiac Disease, or available. The information contained herein is accurate as of the date of publishing and has not, and will not, be updated to reflect current menu offerings, restaurant closures, restaurant website links, or any other information that may be pertinent. If you are interested in dining with one of the above-mentioned facilities, please contact the facility directly and ensure that it is able to accommodate any dietary requirements you may have.